Disclosure: This post contains affiliate links.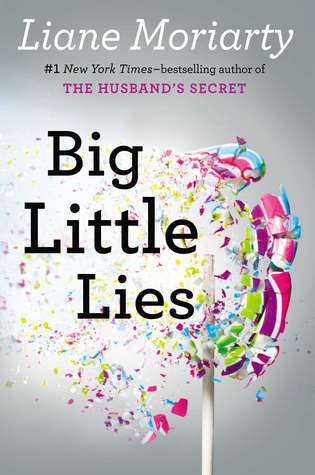 Title & Author: Big Little Lies by Liane Moriarty
Genre: Fiction
A fascinating story told in a highly compelling format, Big Little Lies is a rare breed of book. I'd heard good things about it and was ecstatic when my hold at the library was ready. After I started reading I realized I couldn't even remember what the plot was supposed to be about. Imagine my delight when I realized it was a fictional tale of murder! [Mysteries and suspense stories are probably my favorite genre.]
The story takes place in Pirriwee Beach, Australia, a scenic beach town. Though it seems that the city has diversified slightly in recent years, its residents are still mainly middle- to upper-class. Many residents surf daily and there are a lot of stay-at-home moms (and a few stay-at-home dads). Living in southern California, I feel like the book could easily take place in Laguna Beach or Malibu and you'd only have to change a few key phrases to make it work. That relatability to the types of people I see regularly made this book incredibly easy to get into, but I think it would be pretty easy to relate to regardless.
The book centers around a group of the kindergarten parents in Pirriwee, primarily the mothers. (The dads are included and relay parts of the story but most of the action is told by the mothers.) There are a few cliques among the mothers in particular, which are quite possibly typical of real-life parent groups. [Don't ask me, I don't have kids – they sound realistic though.] There are the stay-at-home moms against the working mothers, the parents of "gifted and talented" children versus the parents of "average" kids, the parents who don't want to get involved in school politics and the ones who thrive on it, the wealthy and the comfortable. And there is a rift between two of the mothers that has many of the other "Kindy Mums" aligning themselves with one of the two for most of the book.
Big Little Lies begins with a school neighbor overhearing some racket at the school during the annual Trivia Night, a parental fundraiser to help purchase SMART Boards for the students (whatever those may be). The neighbor questions whether she should call the police and then hears the police sirens in the distance. From there on, Moriarty takes us back to six months before Trivia Night and counts down as the events unfold. The story is told from the perspectives of the three main characters – Madeline: obsessed with fashion and beauty; Jane: the new one in town; and Celeste: an incredibly beautiful mother married to a wealthy man. There are also portions at the beginning and end of each chapter that are the accounts of the lesser characters as told to the police. Because, as I said earlier, this is a murder investigation.
What really struck me about the book is that the parents all have assumptions about each other and they all behave terribly. They're supposed to teach their 5-year-old children manners but they're constantly bad-mouthing one other and acting inappropriately. And they're all so sure that they know what the lives of the other parents are like by looking from the outside in. What the book really showed me is that you can't judge a book by its cover – which is sad, because that's still how I pick a lot of my books – and that everyone has secrets.
Big Little Lies had me guessing all the way to the end. I had part of the mystery figured out correctly (for the wrong reasons) but I didn't even know that there was another part of the mystery to solve! I was completely surprised once we got into the actual Trivia Night portion. I was also really impressed with the topics that Moriarty covered in the book: domestic violence, bullying, parenting styles. They're potential land mine topics that are written about with a sort of ease and humor – not dismissing them through the writing but showing how we dismiss them if directed at us [domestic violence] and may blow something out of proportion if directed at our children [bullying].
To be perfectly honest, I want to read this again in a year or so and I hope I forget the whole thing. [But I won't because the hook was too good. Dare to dream….] I plan to look up Moriarty's other books in the library post-haste.
---
Verdict: Big Little Lies is a unique book in that it had me completely hooked at page seven. As in seven of 400-something! I started reading it on Dec. 23rd around 11am and finished it in less than 28 hours. If I'd read the book earlier in the month it would have easily made it to my "High Points on my 2014 Reading List" post. I've read a lot of books this year, and enjoyed most of them, but I had a very hard time putting this one down.
Recommended for: anyone who enjoyed Where'd You Go, Bernadette – this book reminded me a lot of that one in terms of the cattiness of the mothers – or Gone Girl – this book is similar in the "I know a crime is committed but by whom?!?" aspect. And obviously, anyone who likes murder mysteries in general will probably love this book.
Price: $3.99 (Kindle) – $16.16 (hardcover) on Amazon