Disclosure: This post contains affiliate links.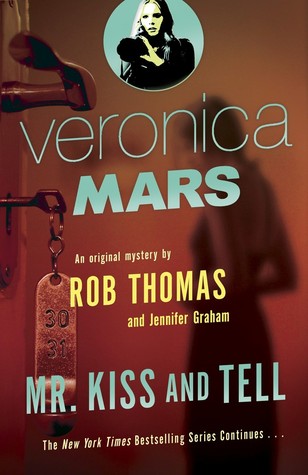 Title & Author: Mr. Kiss and Tell (Veronica Mars, #2) by Rob Thomas and Jennifer Graham
Genre: Mystery, Crime, Movie/TV tie-ins
Synopsis (from Goodreads):
The Neptune Grand has always been the seaside town's ritziest hotel, despite the shady dealings and high-profile scandals that seem to follow its elite guests. When a woman claims that she was brutally assaulted in one of its rooms and left for dead by a staff member, the owners know that they have a potential powder keg on their hands. They turn to Veronica to disprove—or prove—the woman's story.
The case is a complicated mix of hard facts, mysterious occurrences, and uncooperative witnesses. The hotel refuses to turn over its reservation list and the victim won't divulge who she was meeting that night. Add in the facts that the attack happened months ago, the victim's memory is fuzzy, and there are holes in the hotel's surveillance system, and Veronica has a convoluted mess on her hands. As she works to fill in the missing pieces, it becomes clear that someone is lying—but who? And why?
Reading (or watching) Veronica Mars is sort of like catching up with an old friend for me. I never watched the show when it was on TV but I binge-watched the heck out of it on Netflix nearly five years ago and I've been on the VMars bandwagon ever since. I thought Mr. Kiss and Tell was being released last October but hey, worth the wait.
The format for all things Veronica Mars is generally the same:
Veronica and/or her father, Keith, are hired to investigate a crime (or possible crime)
Veronica does a lot of work but can't seem to get the right people to talk in order to make real progress
insert some drama with Logan [this isn't a complaint – I love Veronica and Logan together]
catch up with regulars and fan-favorite characters
Veronica gets investigation advice from Keith
Veronica cracks the case!
I understand that this sounds incredibly formulaic – and it is, somewhat – but I have a soft spot for Miss Mars. That said, I did find an error early on where the book references Dan Lamb but really means his deceased brother, Don Lamb. Then there was a point near the end of the book where I was about to punch Veronica but she made the right call in the end – lucky for her! I also really didn't like the story line for Eli "Weevil" Navarro in this book – I'm wondering if they were leaving that open at all for future stories or if I'm just not going to like it.
---
Verdict: I love, love, love Veronica Mars. They could put out a new VMars book annually and I'd buy every one of them. Reading the books feels like I'm watching another movie or an extended episode – they just pull me back in. I can vividly see the actors portray their characters in my imagination. While the books (and the show) aren't Shakespeare they are well-written and quite enjoyable.
Perhaps the thing I appreciate most is how Veronica is smart, sassy, and completely fine with the fact that she doesn't fit in with the wealthy elite in town. She says the things I think (although she has better zingers) but may not say. I wish I'd had this kind of female role model when I was younger.
Recommended for: fans of the Veronica Mars television series and/or movie or anyone who enjoys mysteries with strong, quick-witted female characters. [You can read the book without any prior knowledge of the show but it might not make as much sense or be as fun.]
Price: $7.99 (Kindle) – $10.75 (paperback) on Amazon or find it on IndieBound!