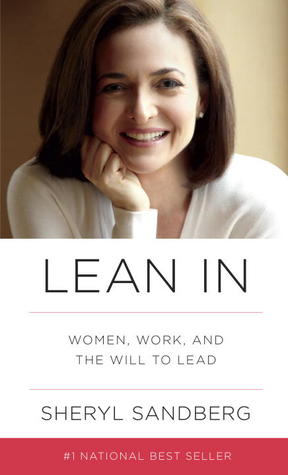 Title & Author: Lean In: Women, Work, and the Will to Lead by Sheryl Sandberg
Genre: Business, Nonfiction
Synopsis:
Thirty years after women became 50 percent of the college graduates in the United States, men still hold the vast majority of leadership positions in government and industry. This means that women's voices are still not heard equally in the decisions that most affect our lives. In 'Lean In', Sheryl Sandberg examines why women's progress in achieving leadership roles has stalled, explains the root causes, and offers compelling, commonsense solutions that can empower women to achieve their full potential.
Sandberg is the chief operating officer of Facebook and is ranked on Fortune's list of the 50 Most Powerful Women in Business and as one of Time's 100 Most Influential People in the World. In 2010, she gave an electrifying TEDTalk in which she described how women unintentionally hold themselves back in their careers. Her talk, which became a phenomenon and has been viewed more than two million times, encouraged women to "sit at the table," seek challenges, take risks, and pursue their goals with gusto.
In 'Lean In', Sandberg digs deeper into these issues, combining personal anecdotes, hard data, and compelling research to cut through the layers of ambiguity and bias surrounding the lives and choices of working women. She recounts her own decisions, mistakes, and daily struggles to make the right choices for herself, her career, and her family. She provides practical advice on negotiation techniques, mentorship, and building a satisfying career, urging women to set boundaries and to abandon the myth of "having it all."  She describes specific steps women can take to combine professional achievement with personal fulfillment and demonstrates how men can benefit by supporting women in the workplace and at home. 
Written with both humor and wisdom, Sandberg's book is an inspiring call to action and a blueprint for individual growth. Lean In is destined to change the conversation from what women can't do to what they can.
I have always been shy. From a young age I was quiet and focused on listening more than speaking. I spoke when asked questions or someone spoke to me but I didn't necessarily seek out conversation much. My father can (and often does) talk to anybody, a trait that I admire but don't understand. As an only child, I didn't have siblings talking over me so there was no real urgency to speak before someone else stole my point or talked over me.
Cut to present day. My shyness has turned into sometimes being overly polite in business settings, which doesn't help anyone. [I'm not advocating becoming a rude jerk but business moves quickly and sitting back won't get the job done.] Lean In showed me how important it is for women to take an active role in business.
I've read some reviews stating that the book missing the mark with women of color and women who are not wealthy or who stand on lower rungs of the business ladder. And that's true – there's no way that Sandberg could write from those points. She had a lot of opportunities early on because in her career thanks to her academic skills and is now the COO of Facebook. And she can't speak from personal experience on being a woman of color in the business world because she's just not.*

Could Sandberg have gotten more anecdotes and quotes from women of color for the book? Probably – but while there are few women in higher-level corporate positions, I imagine the number of women of color in the C-suite is even more dismal. That's the whole point of the book! We need to give all women more options – and not just the option to either work or stay home and raise a family.
There were a number of great "a-ha!" moments in the book for me, some of which are so obvious it's painful.
"We hold ourselves back in ways both big and small, by lacking self-confidence, by not raising our hands, and by pulling back when we should be leaning in. We internalize the negative messages we get throughout our lives–the messages that say it's wrong to be outspoken, aggressive, more powerful than men." (loc. 188 – I read this on my Kindle and don't have actual page numbers, sorry!)
"An internal report at Hewlett-Packard revealed that women only apply for open jobs if they think they meet 100 percent of the criteria listed. Men apply if they think they meet 60 percent of the requirements." (loc. 929)
"Women are also more reluctant to apply for promotions even when deserved, often believing that good jobs performance will naturally lead to rewards. Carol Frohlinger and Deborah Kolb, founders of Negotiating Women, Inc., describe this as the 'Tiara Syndrome,' where women 'expect that if they keep doing their job well someone will notice them and place a tiara on their head.'" (loc. 938)
Aside from just discussing how women should be more involved in the business world, she takes a lot of time to discuss how the partners of those women need to be more involved at home. The book isn't saying that being a stay-at-home parent is bad by any means, but is trying to present options to a group that might feel like they have none.
---
Verdict: Lean In really inspired me! It won't resonate with everyone – what does? – but I found it to be very thoughtful and well researched. We should all (men and women) lean in to our careers. As they say, anything worth doing is worth doing well…so don't bide your time!
Recommended for: women who are looking for motivation to move forward in their professional or personal lives, and men who are brave enough to advocate for women.
Price: about $5 – $20 depending on your preferred format. Find it on Amazon, Barnes & Noble or Indiebound!

* Note: To this point, I can't speak much on those frames of reference either. I'm certainly not wealthy but I know that I can speak up in my job and still be respected. I'm not concerned with losing my job if I voice opinions and not everyone can say that. Ok, back to the review.