Disclaimer: This post contains affiliate links.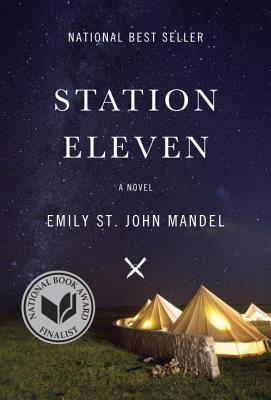 Title & Author: Station Eleven: A Novel by Emily St. John Mandel
Genre: Fiction, Post-Apocalyptic, Science Fiction
Synopsis (from Goodreads):
An audacious, darkly glittering novel set in the eerie days of civilization's collapse, Station Eleven tells the spellbinding story of a Hollywood star, his would-be savior, and a nomadic group of actors roaming the scattered outposts of the Great Lakes region, risking everything for art and humanity.
 
One snowy night Arthur Leander, a famous actor, has a heart attack onstage during a production of King Lear. Jeevan Chaudhary, a paparazzo-turned-EMT, is in the audience and leaps to his aid. A child actress named Kirsten Raymonde watches in horror as Jeevan performs CPR, pumping Arthur's chest as the curtain drops, but Arthur is dead. That same night, as Jeevan walks home from the theater, a terrible flu begins to spread. Hospitals are flooded and Jeevan and his brother barricade themselves inside an apartment, watching out the window as cars clog the highways, gunshots ring out, and life disintegrates around them.
 
Fifteen years later, Kirsten is an actress with the Traveling Symphony. Together, this small troupe moves between the settlements of an altered world, performing Shakespeare and music for scattered communities of survivors. Written on their caravan, and tattooed on Kirsten's arm is a line from Star Trek: "Because survival is insufficient." But when they arrive in St. Deborah by the Water, they encounter a violent prophet who digs graves for anyone who dares to leave.
 
Spanning decades, moving back and forth in time, and vividly depicting life before and after the pandemic, this suspenseful, elegiac novel is rife with beauty. As Arthur falls in and out of love, as Jeevan watches the newscasters say their final good-byes, and as Kirsten finds herself caught in the crosshairs of the prophet, we see the strange twists of fate that connect them all. A novel of art, memory, and ambition, Station Eleven tells a story about the relationships that sustain us, the ephemeral nature of fame, and the beauty of the world as we know it.
---
Station Eleven is a beautiful masterwork of post-apocalyptic fiction that could all too easily be a reality. No zombies here–instead the majority of earth's human population is wiped out by an incredibly virulent flu strain. Without people to man the machines that keep our infrastructure going, electricity (and everything it powers) soon grinds to a halt. Before long the oil in cars goes bad, leaving freeways and side streets forever littered with vehicles, so the primary means of getting around is on foot. Bands of looters roam and shoot others on site, either because they're scared or because they want food, ammunition, or other supplies.
But classifying it as merely a post-apocalyptic work is somewhat trivializing. The story unfolds both before and after this apocalypse. The way that Mandel weaves the pre- and post- together, along with the stories of the five main characters, is remarkable.
Arthur is the central character despite the fact that he has a heart attack on stage while performing in King Lear at the beginning of the story. Jeevan is training to become an EMT and happens to be in the audience for King Lear. He performs CPR on Arthur before of the entire audience – and just in front of child actress Kirsten. Kirsten is _______ and watches the scene in a sort of dazed horror. After his onstage death, Arthur's lifelong friend Clark is called to begin the process of contacting Arthur's family and ex-wives. Arthur's first ex-wife, Miranda, is working in Asia when she gets the news. His second ex-wife, Elizabeth, is living in Jerusalem with their song, Tyler. These are the primary characters in the book–all roads lead back to Arthur.
I know that most of us like to think we have our own free will–and to a large extent, we do–but it's always interesting to read stories about how fate interacts with our lives. On the one hand it might seem far-fetched that the primary characters driving Station Eleven's story all knew Arthur personally, especially considering that so much of the population was wiped out. But is it really that crazy? In the modern age we live in, the world has become more connected than ever so I don't think it's that big of a leap.
Though a child at the beginning of the story, Kirsten survives the pandemic and joins the Traveling Symphony, a group that performs mostly Shakespeare productions. They wander around the Great Lakes region and provide entertainment for the people living in the towns along Lake Michigan. Some might wonder why they would do that but one of the symphony members sums it up perfectly: "The thing with the new world is it's just horrifically short on elegance." While you could get by on the basics of life–gathering food, maintaining shelter and safety, etc.–that doesn't necessarily fill you with a purpose. Even in this dystopian future, people want to have a purpose. Plus, as the book shares over and over again, "survival is insufficient". [Originally from Star Trek: Voyager, episode 122.]
There are three more phrases that appeared in the book that warmed my heart (I do love variations on a theme):
"Sartre: Hell is other people." (p. 48)
"Hell is the absence of the people you long for." (p. 144)
"…The pleasure of being with other people." (p. 322)
---
Verdict: Station Eleven is excellent – it's easy to see why it was a finalist for the National Book Award and is now a finalist for the Pen Faulkner Award. It takes a semi-common theme (the post-apocalyptic world) and puts a unique spin on it (the thread of connectedness that runs through us).
Recommended for: those who enjoy stories that go back and forth in time or span decades or anyone looking for a new take on the post-apocalyptic novel.
Price: $5.99 (Kindle), $12.24 (paperback), or $17.47 (hardcover) – find it at Amazon or Powell's!