Disclosure: This post contains affiliate links.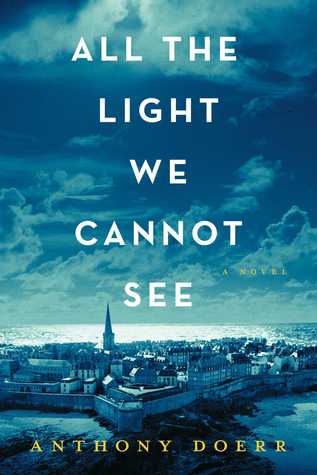 Title & Author: All The Light We Cannot See by Anthony Doerr
Genre: Historical Fiction
Synopsis (from Goodreads):
Marie-Laure lives with her father in Paris near the Museum of Natural History, where he works as the master of its thousands of locks. When she is six, Marie-Laure goes blind and her father builds a perfect miniature of their neighborhood so she can memorize it by touch and navigate her way home. When Marie-Laure is twelve, the Nazis occupy Paris, and father and daughter flee to the walled citadel of Saint-Malo, where Marie-Laure's reclusive great-uncle lives in a tall house by the sea. With them they carry what might be the museum's most valuable and dangerous jewel.
In a mining town in Germany, the orphan Werner grows up with his younger sister, enchanted by a crude radio they find. Werner becomes an expert at building and fixing these crucial new instruments, a talent that wins him a place at a brutal academy for Hitler Youth, then a special assignment to track the resistance. More and more aware of the human cost of his intelligence, Werner travels through the heart of the war and, finally, into Saint-Malo, where his story and Marie-Laure's converge.
---
I had never heard of Doerr prior to seeing All The Light We Cannot See on several 2014 best book lists. I've always been fascinated by WWII and I like historical fiction so it seemed like a great match. I probably read more books than the average person and I'd have to say that ATLWCS is one of the most beautifully written that I've encountered. Doerr's writing style is poetic and lyrical. Because one of the primary characters is blind he takes great pains to describe what is experienced with the other senses and how the characters feel.
"To really touch something, she is learning–the bark of a sycamore tree in the gardens; a pinned stag beetle in the Department of Entomology; the exquisitely polished interior of a scallop shell in Dr. Geffard's workshop–is to love it." (p.30)
"There is the humility of being a father to someone so powerful, as if he were only a narrow conduit for another, greater thing. That's how it feels right now, he thinks, kneeling beside her, rinsing her hair: as though his love for his daughter will outstrip the limits of his body. The walls could fall away, even the whole city, and the brightness of that feeling would not wane." (p. 189)
ATLWCS begins on Aug. 7, 1944 as American troops drop leaflets prior to an attack on Saint-Malo, France. The first eight chapters take place at this point in time and then the reader is transported back to the real beginning of the story–1934, when Marie-Laure is six. The book continues in this fashion: every other major demarcation in the book takes place in August 1944 during the siege of Saint-Malo, until you get to Part Eleven. Each chapter is short and they vacillate between points of view (primarily Marie-Laure and Werner's, later including a Nazi officer named Von Rumpel).
Part Two is the real beginning of the story. After going blind at age six, Marie-Laure's father (Daniel) builds her a miniature version of their Parisian neighborhood so that she can learn her way around in miniature. [Her mother has died before the beginning of the book.] Daniel teaches her how to count storm drains to mark her path; how to use other sensory information – smells, sounds – to pinpoint her location. He has her guide him to various locations in the city, spinning her around first so that she loses her initial bearings. It's all in an effort to help her build independence and self-reliance. Though she initially feels these are impossible tasks, she becomes quite capable over the years.
Daniel buys her new braille books for her birthdays – Twenty Thousand Leagues Under the Sea is a favorite – and she devours them. His experience as a locksmith and "keeper of the keys" at the Museum National d'Histoire Naturelle (National Museum of Natural History) gives him the ability to build her unique puzzle boxes that require multiple levels of solving to open and get the prize. He is constantly looking for ways to help her keep her mind active.
Meanwhile in Zollverein, a German mining town, young Werner Pfennig grows up in at Children's House orphanage with his sister, Jutta. (He and Marie-Laure are approximately the same age and only separated by a few hundred miles so it's fascinating to read about the changes that happen in their respective countries as the war drags on.) Werner and Jutta find an old, broken radio while out exploring one day and Werner figures out how to fix it on his own. The siblings tune in to radio broadcasts from around Europe at night and become fascinated with a French educational broadcast for children.
"'Consider a single piece glowing in your family's stove. See it, children? That chunk of coal was once a green plant, a fern or reed that lived one million years ago, or maybe two million, or maybe one hundred million. Can you imagine one hundred million years?… Open your eyes,' concludes the man, 'and see what you can with them before they close forever….'" (p. 47-48)
Werner increasingly shows an aptitude for electronics and fixes radios for others in the neighborhood. He's finally called to the house of Herr Siedler, a German officer, who needs his radio fixed as well. Apparently some others had tried and failed but Werner finds the problem and is able to fix it in short order. Siedler is impressed and recommends him to the National Political Institute of Education #6 at Schulpforta. Werner soon receives a letter from the school telling him to report.
After Werner is accepted to Schulpforta things change drastically, for him and for the reader. You see just how entrenched the propaganda has become, how loyal everyone is to things they don't fully understand. It's fascinating and terrifying and it moves very quickly. You don't want to be the one who isn't participating; you don't want to be the weakest or the slowest or anything else that would mark you as inferior or not fully committed to the cause. Werner stands out in electronics and mechanical tasks and is put to use primarily in that realm.
Meanwhile Marie-Laure and her father flee Paris. Daniel has been given entrusted with the safety of a magnificent gem from the museum, the 'Sea of Flames' diamond (though he's not sure whether it's real: three fakes have been created to throw off the Germans). Daniel and Marie-Laure's original intent is to stay with a friend of the museum director's in Evreux, but he is gone when they arrive and his home is being looted. So they head to Saint-Malo to stay with Marie-Laure's great uncle.
Daniel builds a miniature version of Saint-Malo for Marie-Laure, like he did in Paris. It's in one of those buildings that he hides the museum's gem for safekeeping, another puzzle box for his daughter. German officer Major Reinhold von Rumpel searches all over Europe for the real Sea of Flames and finally follows Daniel's progress to Saint-Malo. His intent is to locate the gem for the Führer Museum before his cancer overtakes him.
To say that Marie-Laure's life is flipped upside-down is an understatement, but that's what tends to happen in war: the screws continue tightening. Little by little freedoms are taken away and replaced with new rules from those in power. Ultimately she and Werner both have to use their various gifts–wit, bravery–and find their own inner light to survive.
---
Verdict: All The Light We Cannot See captivated me. The characters were memorable and unique, the descriptions gloriously detailed. I'm usually not one for flowery language but Doerr's style spoke to me and I will definitely be back for more of his work. This is a book I could see myself rereading many times over.
Recommended for: lovers of historical fiction, those interested in WWII in general, and anyone who enjoys a well-crafted and lyrical writing style.
Price: $11.99 (Kindle) – $18.90 (hardcover). Find it on Amazon or Powell's!