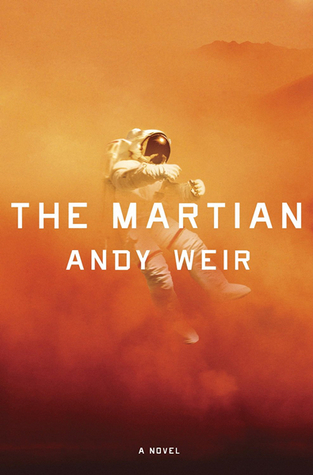 Title & Author: The Martian by Andrew Weir
Genre: Science Fiction
Synopsis (from Goodreads):
Six days ago, astronaut Mark Watney became one of the first people to walk on Mars.
Now, he's sure he'll be the first person to die there.
After a dust storm nearly kills him & forces his crew to evacuate while thinking him dead, Mark finds himself stranded & completely alone with no way to even signal Earth that he's alive—& even if he could get word out, his supplies would be gone long before a rescue could arrive.
Chances are, though, he won't have time to starve to death.
The damaged machinery, unforgiving environment or plain-old "human error" are much more likely to kill him first. But Mark isn't ready to give up yet.
Drawing on his ingenuity, his engineering skills—& a relentless, dogged refusal to quit—he steadfastly confronts one seemingly insurmountable obstacle after the next. Will his resourcefulness be enough to overcome the impossible odds against him?
---
The Martian is a "heavy on the science" sci-fi read. A lot of science-fiction seems based in future-y tech or lands with dragons but The Martian seemed to be much more rooted in the reality of the present. (I think that fact made it that much scarier, if I'm being honest.) While I honestly have no idea if all the science is accurate or not, it all seemed plausible to me.
Watney is accidentally left behind on Mars while the crew is trying to evacuate during a powerful dust storm. His crewmates see him get hit by an antenna from the communications dish. The antenna crashed into Watney, punctured his suit and dragged him off into the distance. Due to the dust, nobody could find him in the limited time they had left to safely leave. They made the obvious choice, thinking him dead.
But he's not dead! Through a miraculous series of events (that sound totally plausible to my non-scientific mind) he survived the injury. With the supplies left on Mars, he's able to stitch himself up so he can get down to the business of trying to stay alive and find a way to get off the planet without being able to communicate with NASA. Just think about that for a minute – you are alone on a strange planet with a weird atmosphere and you can't communicate with anyone on Earth. Everyone thinks you're dead and you have to find a way to stretch meager food rations for hundreds of extra days.
But while the book discusses a lot of science and space-related terminology, it's much more about Mark's emotional state and the power of human endurance. All living things generally have a desire to keep living and Watney is a great example of that.
This was a fantastic fictional story of someone struggling to overcome adversity while still providing a humorous outlet. [While I think I'm sarcastic, I don't know how sarcastic or funny I'd feel in his scenario.] I also enjoyed that the viewpoint alternated between Mark, on Mars, and NASA administrators on Earth; this allows readers to be in the know on what both Watney and those who would like to rescue him are working on. I'm sure I'll never actually visit Mars but through this book I got a bit of a feel for what that might be like…and I think I'm ok with missing out.
My only real gripe with the book was related to the ending: it happened too fast. It's like one minute Mark is doing one thing,  then something else happens and BAM, that's the end. I guess I wanted a bit more closure after all the buildup and getting to know Watney closely.
---
Verdict: I really enjoyed The Martian and the character of Mark Watney. His dry humor and wit are written expertly! Watney seems like someone I could be friends with, although my wit isn't nearly as quick as his. Ending aside, it was well-worth the read. [It wasn't a "bad" ending, just too quick for my taste.]
Recommended for: those with a background or interest in the science portion of science-fiction [there's a lot of science]. Those who enjoyed Gravity and/or Interstellar will probably enjoy this as well.
Price: about $5.99 (Kindle) – $24.00 (hardcover). Find it on Amazon or Powell's!