Disclaimer: This post contains affiliate links.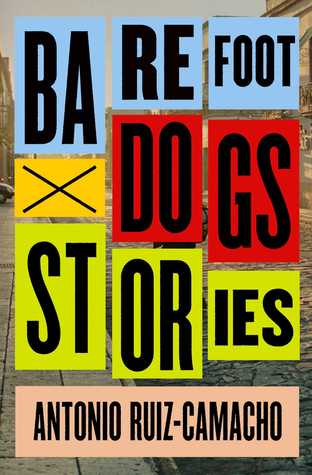 Title & Author: Barefoot Dogs: Stories by Antonio Ruiz-Camacho
Genre: Fiction, Short stories
Synopsis (from Goodreads):
An unforgettable debut of linked stories that follow the members and retinue of a wealthy Mexican family forced into exile after the patriarch is kidnapped.
On an unremarkable night, José Victoriano Arteaga—the head of a thriving Mexico City family—vanishes on his way home from work. The Arteagas find few answers; the full truth of what happened to Arteaga is lost to the shadows of Mexico's vast and desperate underworld, a place of rampant violence and kidnappings, and government corruption. But soon packages arrive to the family house, offering horrifying clues.
Fear, guilt, and the prospect of financial ruination fracture the once-proud family and scatter them across the globe, yet delicate threads still hold them together: in a swimming pool in Palo Alto, Arteaga's young grandson struggles to make sense of the grief that has hobbled his family; in Mexico City, Arteaga's mistress alternates between rage and heartbreak as she waits, in growing panic, for her lover's return; in Austin, the Arteagas' housekeeper tries to piece together a second life in an alienating and demeaning new land; in Madrid, Arteaga's son takes his ailing dog through the hot and unforgiving streets, in search of his father's ghost.
Multiple award-winning author Antonio Ruiz-Camacho offers an exquisite and intimate evocation of the loneliness, love, hope, and fear that can bind a family even as unspeakable violence tears it apart. "A straight-on jab to the soul" (Ben Fountain, author of Billy Lynn's Long Halftime Walk), Barefoot Dogs is a heartfelt elegy to the stolen innocence of every family struck by tragedy. This is urgent and vital fiction.
---
I discovered Barefoot Dogs through the Book People Trust Fall, a quarterly box from the independent bookstore Book People in Austin, TX. Each shipment includes a signed, first-edition book that the employees of Book People highly recommend, plus some extra goodies. You can sign up for a full year subscription or just for the current quarter's shipment, which is what I did. (If you don't like the book, you can also return it for a full refund and keep the extra goodies.) The March 2015 Trust Fall looked like a fun chance to check out this subscription! [A full review of the box can be found on My Subscription Addiction – I'm just reviewing the book itself.]
Barefoot Dogs sounded like a really interesting premise to me, and I haven't read many books of short stories recently (or ever, really) so it seemed like a good way to mix up my reading list. Since I'm reading so many books anyway, it's good to get a variety in so I can at least learn something or look at this from a different point of view. And while Barefoot Dogs definitely provided that, I just didn't like the book.
It wasn't really one thing that stood out that I didn't like about the book. Ruiz-Camacho's writing is…ok, the background plot is interesting…but it felt like a half-formed idea to me. Maybe it's because I'm not used to short stories, who knows? I found myself getting through maybe one-quarter of each story before I knew who was who and how they related to this kidnapped family patriarch. Then I'd want to re-read the beginning of the story so I could fit all the pieces together. I've read much longer books with many more characters where the relationships were easier to piece together.
And while the author's writing is ok, it wasn't really my taste. A lot of things felt very choppy. It's a stylistic choice and he was consistent throughout but it's not my preference.
---
Verdict: Not for me, but it was a short read at least. I imagine there are tons of people who love this style of book but I'm just not one of them. I am looking forward to reading War of the Encyclopaedists from Trust Fall though.
Recommended for: lovers of short story format or those who don't hear nails on a chalkboard when reading a very conversational writing style.
Price: about $11.99 (Kindle) – $17.37 (hardcover). Find it on Amazon or Powell's!