After recently finishing some interesting/boring financial books [interesting to learn more in financial areas but I mean…finances aren't really "fun" to read about], I wanted to get back to some fiction. I picked up The Casual Vacancy at a garage sale maybe a year ago and it's just been sitting around, so I chose that as my next read.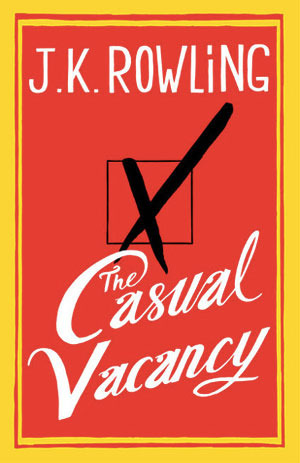 Title & Author: The Casual Vacancy by J.K. Rowling
Genre: Fiction
Synopsis (from Goodreads):
When Barry Fairbrother dies in his early forties, the town of Pagford is left in shock.
Pagford is, seemingly, an English idyll, with a cobbled market square and an ancient abbey, but what lies behind the pretty façade is a town at war.
Rich at war with poor, teenagers at war with their parents, wives at war with their husbands, teachers at war with their pupils … Pagford is not what it first seems.
And the empty seat left by Barry on the parish council soon becomes the catalyst for the biggest war the town has yet seen. Who will triumph in an election fraught with passion, duplicity and unexpected revelations?
---
I picked this up because I'm interested in reading a non-Harry Potter book by Rowling. I found that whole series to be well-written and have many fond memories of the characters so I'm curious to see what The Casual Vacancy holds.
I'd also like to note that I didn't read the description before purchasing the book and assumed the vacancy in question was at a hotel or something. [This doesn't really make sense with the cover image but I wasn't really thinking about it much.] I didn't realize that a "casual vacancy" is a political term for when someone leaves office–through death, resignation, etc.–during their term. Much more interesting!
Have you read The Casual Vacancy? What did you think? The book was also turned into a miniseries that aired on BBC One and HBO earlier this year, in case you missed that.