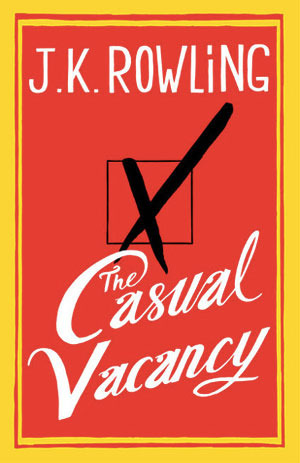 Title & Author: The Casual Vacancy by J.K. Rowling
Genre: Literary fiction, novels
Synopsis (from Goodreads):
A BIG NOVEL ABOUT A SMALL TOWN …
When Barry Fairbrother dies in his early forties, the town of Pagford is left in shock.
Pagford is, seemingly, an English idyll, with a cobbled market square and an ancient abbey, but what lies behind the pretty façade is a town at war.
Rich at war with poor, teenagers at war with their parents, wives at war with their husbands, teachers at war with their pupils … Pagford is not what it first seems.
And the empty seat left by Barry on the parish council soon becomes the catalyst for the biggest war the town has yet seen. Who will triumph in an election fraught with passion, duplicity and unexpected revelations?
---
Wow. We aren't in Hogwarts anymore, my friends. This book…
But let me back up a bit. I picked this book up at a garage sale maybe a year ago. I'd truly enjoyed the Harry Potter series and was curious what a non-HP Rowling book would be like. After reading a bunch of other things (I have so many books on my "to read" list), I finally got around to this one. I figured it would be a good return to fiction after finishing the two finance books, and I was right.
Where to begin? While I don't enjoy living in small towns, I love books that use them as their main setting. I find all of the nosy neighbors and high level of gossip intriguing. And Pagford has all of that, plus silly local politics to boot!
After Barry Fairbrother dies there's a "casual vacancy" [a seat that opens up between normal election terms, usually due to death, disqualification, or resignation] on the parish council. People seem to come out of the woodwork to try to fill this spot, which is odd because most other councillors have run unopposed.
Why all the fuss? Primarily a boundary line between Pagford and neighboring town Yarvil, particularly concerning an area named "The Fields". Pagford is an upper class town with a strict set of values and beliefs. Pagford citizens view the Fields, a public housing estate, as a blight on Pagford and a drain on its resources. They feel that Yarvil should retake control of the Fields and its inhabitants, who Pagfordians basically feel are all lazy, drug addicted slobs. The fact that Pagford children have to go to school with children from the Fields is a horror!
Most of the "true" Pagfordians, those whose families have been there for generations, are portrayed as quite the snobs. Newer inhabitants of Pagford are much more moderate and want to give citizens in the Fields the help they need. Characters from the Fields are more often drug-addicted, in trouble, or otherwise on the lower end of the social spectrum.
Fairbrother was the main champion for the Fields' inhabitants and now that he's dead, the right-wing division of the council move quickly to get rid of the Fields and shut down its addiction clinic. It reminds me of stories I've heard about police in wealthier southern California communities picking up homeless people and dropping them in other areas–just shift the problem to somewhere else. [Note: I have never seen police do this and it seems like a waste of their time but who knows.]
As the election gears up, there are three primary candidates running for the office:
Colin "Cubby" Wall, who wants to continue Barry Fairbrother's work and keep the Fields as part of Pagford. He's also the deputy headmaster of Winterdown school and father of Stuart "Fats" Wall.
Simon Price, who wants to be on the council so he can get bribe money or other kickbacks from businesses and locals. He's also the father of Andrew. He grew up in the Fields but lives in Pagford and really only cares about the money.
Miles Mollison, son of sitting Parish council leader Howard Mollison. He primarily wants to be on the council because of his father's urging. Also, he grew up in Pagford so he sides with his father on removing the Fields from Pagford's boundaries.
The Casual Vacancy is one of those books where none of the characters are really good, though none are inherently evil either. Meaning that if you need someone to root for in your books, I wouldn't recommend this one (though I do recommend it in general). As the election heats up, messages with juicy gossip about each of the candidates (and others on the council) show up on the Pagford Council's website, posted by "the_ghost_of_barry_fairbrother". None of the characters can figure out who this person is or how they're posting the messages, although the reader is fully aware of how it's happening. It's a very modern way of airing out grievances, let me tell you!
Rowling covers a lot of topics in her first non-Harry Potter release: local politics, racism, drug addiction, prostitution, rape, the class divide, teenage bullying. I think the characters were forced to look at themselves in the harsh light of day at the end of the book. When your sins are laid bare in front of the world, I imagine you would want to take stock in how you're living life.
---
Verdict: I greatly enjoyed The Casual Vacancy! It was nearly like a Shakespearean tragedy when all was said and done, and I love the small town gossip and political nonsense. For all the tragedy, there was a healthy dose of dark comedy as well. If you need a traditional "good guy" to root for in books you read, you aren't really going to find it here.
Recommend for: diehard Rowling fans who want to read something very unlike Harry Potter, readers who like books set in small towns with nosy neighbors, those who enjoy Shakespearean-style tragedies.
Price: about $8.99 (Kindle), $10.92 (paperback), or $21.00 (hardcover) on Amazon.