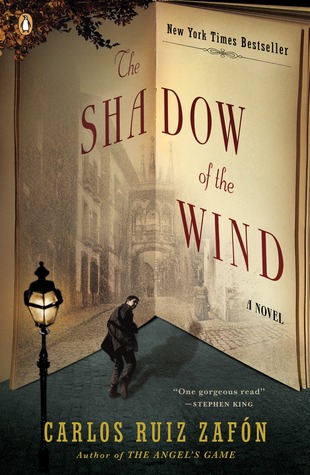 Title & Author: The Shadow of the Wind by Carlos Ruiz Zafón (translation by Lucia Graves)
Genres: Contemporary Fiction, Literary Fiction
Synopsis (from Goodreads):
Barcelona, 1945: A city slowly heals in the aftermath of the Spanish Civil War, and Daniel, an antiquarian book dealer's son who mourns the loss of his mother, finds solace in a mysterious book entitled The Shadow of the Wind, by one Julián Carax. But when he sets out to find the author's other works, he makes a shocking discovery: someone has been systematically destroying every copy of every book Carax has written. In fact, Daniel may have the last of Carax's books in existence. Soon Daniel's seemingly innocent quest opens a door into one of Barcelona's darkest secrets–an epic story of murder, madness, and doomed love.
---
I am so very thankful that I started writing this blog for many reasons, one of which being that people recommend books to me that I may not otherwise have found! I was searching for a book that had originally been written in a foreign language [not English] and hoped some kind souls online would be able to point me to some good ones. Ask and you shall receive: The Shadow of the Wind was recommended and it sounded quite interesting. Plus it won my recent "What should I read next?" reader poll.
I just started TSofW yesterday so I'm only about 7% into it, but I'm already enjoying Zafón's beautiful writing style! The descriptions are so lovely and vivid. It's funny that I enjoy more flowery language for once; I've traditionally been more of a "Get to the dialogue already!" person. I am either maturing or Zafón's writing is an exception to that mentality (or both, I suppose). Learning more about the mystery at the center of this book, this "epic story of murder, madness, and doomed love…", is exciting to me as well–who doesn't love a good murder mystery?
---
Have you read The Shadow of the Wind? What was your take on it?
(No spoilers, please!)


Also, be on the lookout for my review of A Clash of Kings later this week!